Angela Armstead: Main
Information
Our practice centers on one thing – excellence in patient service. It is important to us that new patients know what to anticipate during their first appointment. You will need to be at the office at least 15 minutes before your appointment.
If you are a new patient, please print and fill out all forms in the box on the right, then bring all forms with you This will make your first visit much easier.

You can expect, among other procedures, a review of your patient history, a routine blood pressure screening (for adult patients only), X-Rays, charting of your existing dental work, and a preliminary examination followed by a complete oral examination. There will also be some standard paperwork, but in order to make your first visit as pleasant as possible, we provide the bulk of these forms here, and encourage you to fill them out at home at your leisure.

We look forward to seeing you and hope we can meet your dental concerns. If you have any question prior to your appointment, please feel free to contact us during regular business hours.
Phone (304) 343-2151 • FAX (304) 343-2153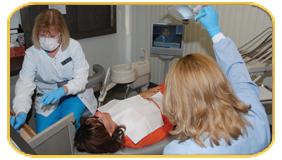 Patient Information. These forms will get us the information we need to provide you with the best dental care we can. All information is strictly confidential.
(Download Welcome to Patient) • (Download Appointment Information)

Office Policies Contract. This is a statement of our financial policy, as it concerns payment and insurance. Please understand that payment of your services is part of your treatment, and full payment is due at the time of service
(Download Office Policies Contract)

An Important Note to Parents. To develop a strong patient/doctor relationship, we ask that you remain in the waiting room during your child's appointment. We understand you might have concerns about your child's safety and care, and have developed this resource to answer any questions.
(Download Important Note to Parents)

Medications List. For safety reasons, we ask you list any and all medications you are taking, their dosage, and your prescribing physician. This will help us give you the best, and safest, treatment.
(Download Medications List)

Notice of Privacy Practices. An outline of our legal duty to protect your privacy. This notice explains how your health information may be used and disclosed, and how you can get access to this information.
(Download Notice of Privacy Practices)

Acknowledgment of Privacy Practices. This receipt indicates that you have read and understood our Notice of Privacy Practices. You may refuse to sign this acknowledgment.
(Download Acknowledgment of Privacy Practices)

Consent for Use and Disclosure of Health Information. Disclosure of your protected health information to carry out treatment, payment activities, and healthcare operations.
(Download Consent for Use and Disclosure of Health Information)